Galveston, Texas, 19 June 1865
Major-General Gordon Granger, USA, arrives in Galveston to assume command of the Federal Department of Texas. Within hours, he announces, via General Order #3, that slavery has ended in Texas and that all formerly enslaved persons are now free.
"The people of Texas are informed that, in accordance with a proclamation from the Executive of the United States, all slaves are free. This involves an absolute equality of personal rights and rights of property between former masters and slaves, and the connection heretofore existing between them becomes that between employer and hired labor. The freedmen are advised to remain quietly at their present homes and work for wages. They are informed that they will not be allowed to collect at military posts and that they will not be supported in idleness either there or elsewhere."
(The announcement comes some two and a half years after the fact, for reasons that remain somewhat unclear. On the other hand as there were few Federal troops to enforce the law until Granger's men arrived, it's a fairly minor point.)

The details of this took a while to work out, and there's still a fair bit of work to be done on the "absolute equality" front, but we ARE getting there. And from a historical marketing standpoint we are now in the run-up to the Sesquicentennial anniversary celebration of what became known as "Juneteenth," or sometimes "Emancipation Day." (Journalists really like round numbers, especially if they've got fancy names, as they give us a 'hook' to explain what happened, why it's important, and what's happened since. Expect to hear a great deal more about Juneteenth for the next year or so…)
As a "webzine" we* here at The Other Texas will have more to say about this later. Today we have for you two things, one potentially minor and one of some significance. (And I'm not entirely sure which is which.)
Item I. I spent the holiday itself out in Hallettsville, which is a small town about halfway between Houston and San Antonio, just south of Schulenberg. Historically this was a mercantile center to serve the surrounding farming community, and the seat of Lavaca County. I was there because an acquaintance, Naomi Mitchell Carrier, was headlining the Hallettsville Cultural Events Center's first Juneteenth Reception and Black History Exhibition. Ms. Carrier is founder and CEO of the Texas Center for African-American Living History, and author of _Go Down, Old Hannah_, a collection of site-specific performance pieces dealing with slavery and its aftermath in Texas. She's also a long-time classroom educator, writer, historian, Living History interpreter, scholar, and performer. A many-faceted lady, to say the least.
Living History has been an interest of mine for a long time, and I'm relying on _Go Down, Old Hannah_ (along with other sources) for research links for some of my own studies, so when I found out about the Hallettsville event, I decided to head out that way and nose around, learn a few things, shoot the odd photograph, things like that.
Turned out that the event itself was as much a Mitchell family reunion as a historical observance, but that was fun too. The Mitchells of Lavaca County are descended, several generations back, from people who were held as slaves in Lavaca County in the 1840s and 50s, and they've managed to keep the family, and its history, intact. There will probably be a book sooner or later, if there isn't one now.
But now there ARE photographs. A whole gallery.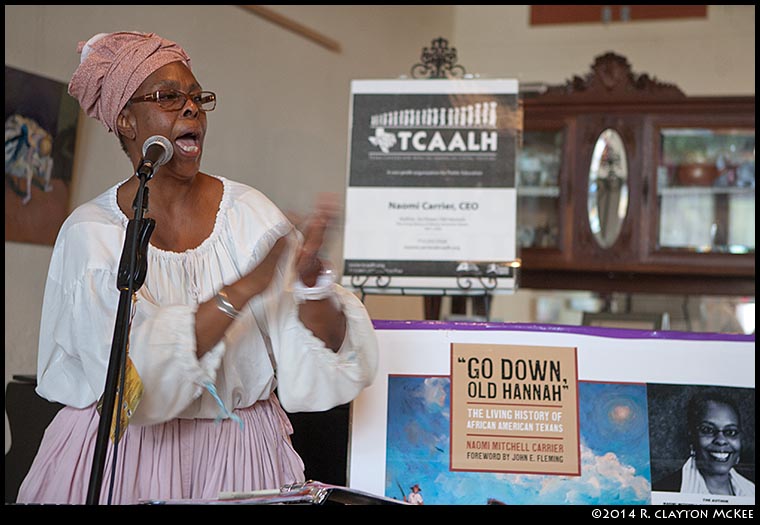 as usual the gallery is behind the front image.
(Note: If you're not a member of the Lavaca County Mitchells, these may not be of just a whole lot of interest. If you are, welcome… and enjoy.)
Item II: While doing research about Juneteenth I ran across a notice that the official Texas Historical Marker for Juneteenth – amazingly, there wasn't one until now – was being unveiled in Galveston, on the actual site of the Union Army Headquarters (where General Order 3 was read), on Saturday morning.
I went.
As with most of these (this is I think my seventh or eighth historical marker unveiling) the proceedings are only of interest to historians, the people actually involved in getting the marker, and in some cases the families or descendants of the people commemorated, and they're all at the event….
So I'll stick to the significant part of the show:
Before: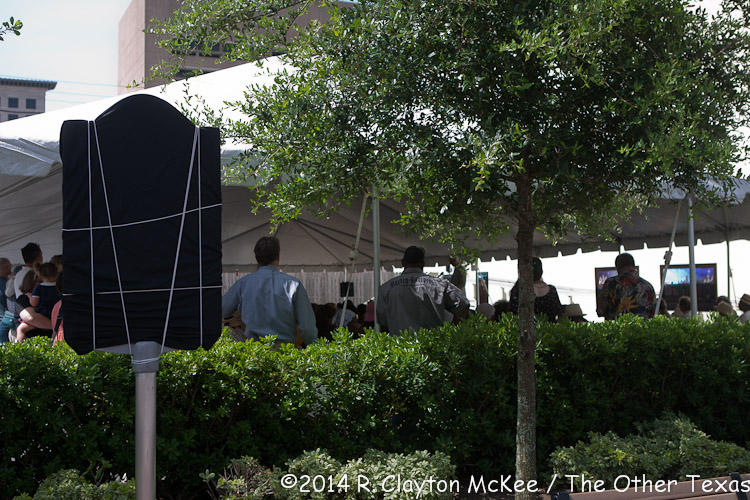 After: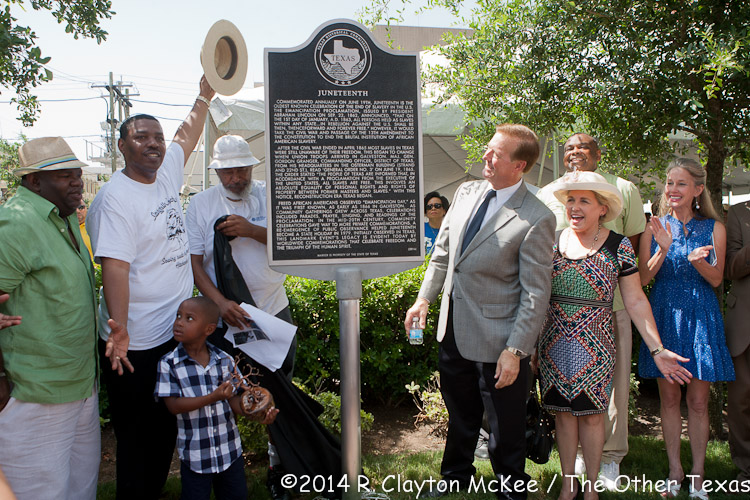 We'll** be back here later.


*(Yes, this is the editorial "we." There's nobody involved in this but yours truly, but sometimes I pretend to be important, just for the hell of it, y'know?)
**(This one is, I hope, not purely an editorial "we." I'm hoping at least a few of you will hang around for the ride. Might be fun.)