Houston "Art Car" Weekend
For those of you who haven't encountered Art Cars before,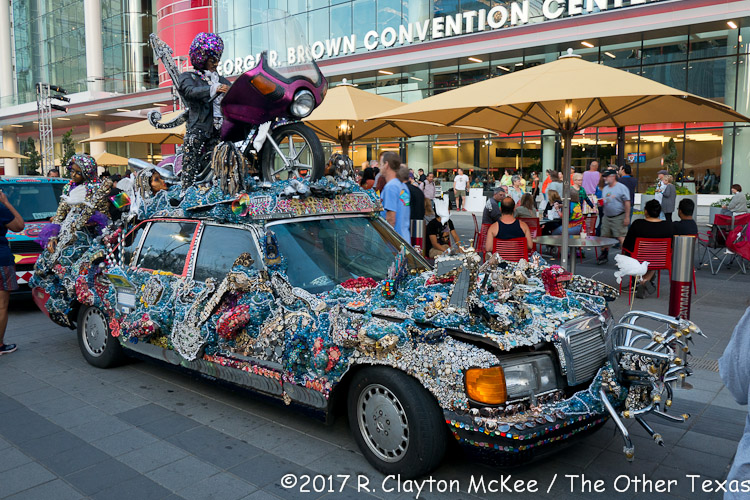 They look sort of like this, sometimes. Imagine if you will an automobile (ranging from fairly new to very old, very broken, and barely functional, about six or eight steps past "jalopy") acquired by a human (ranging from barely able to drive to very old, very broken, and barely functional, about six or eight steps into "artist") armed with twelve different kinds of adhesives and possibly a welder, sixteen boxes of miscellaneous whatnots acquired from the gods only know where, and an unknown number of cans and buckets of paint of all colors, including several that don't have names yet… See, when car meets art meets artist, nobody quite knows what's going to come out but it will be… different. Weird, bizarre, over the top, and you won't quite know what to do about it. That's normal.
People have been turning "cars" (which includes bikes, motorcycles, rollerskates, and anything else they can put wheels on) into art objects for decades here. Every year there's a parade to celebrate this bit of crazy, and it just keeps getting bigger and bigger and crazier and weirder. It's now most of a week long, what with all the intro events and demonstrations and exhibits and workshops. Yesterday was a preview at Discovery Green,the big park downtown. Tomorrow is the 30th annual Houston Art Car Parade, and it's predicted to draw maybe a quarter of a million people. It's going to be nuts. Seriously raving artistic looney nuts. I'm gonna try to get down there and get out alive, but it may not happen. I don't do huge crowds well, and a quarter of a million people is a huge crowd in my world. Tell Mom I died well. (Or at least quickly.)
But while I was contemplating art cars as a gallery for the Wandering Photographer Blog it occurred to me that in simple truth "art cars" were and are about as "Other Texas" as the concept gets or the language allows, so I decided they should go here. I spent several hours yesterday dealing with a somewhat smaller crowd of raving artistic looneys (very nice people, mostly) and brought back a more manageable assortment of photographs for you… guess I'm just nice like that.
(Yes, this in-post gallery stuff is different. I've been using a ZenPhoto page, but apparently something at my hosting service went sdieways, so I'm trying it this way. It may take far longer for initial posts to load; if it does, please let me know and I'll try something else. To tell the truth I'm pretty disgusted with the whole thing just now. As far as I can tell the old galleries are still there and still accessible, so I'm going to probably just leave them there and go to this inline gallery setup from now on. It's simpler to use, doesn't require you to navigate away from the post (yay you!) and still leaves the files on my leased server space. I'm getting old enough and tired enough that I'm okay with not having to learn a new gallery software, really I am.)
More news to follow…. other pix, sometimes, at @TheOtherTexas over on Instagram, and links on @TheOtherTexas on Twitter. Also please note to the right that there's a space for you to sign up for the official "The Other Texas" email list, which means you'll get a copy of the strange things I post within minutes of posting. What you WON'T get is sold or spammed or bothered – that stuff annoys me, so I don't do it. Sign up; this journey's about to get a bit crazier.